ARTISTS
川井 徳寛 Tokuhiro Kawai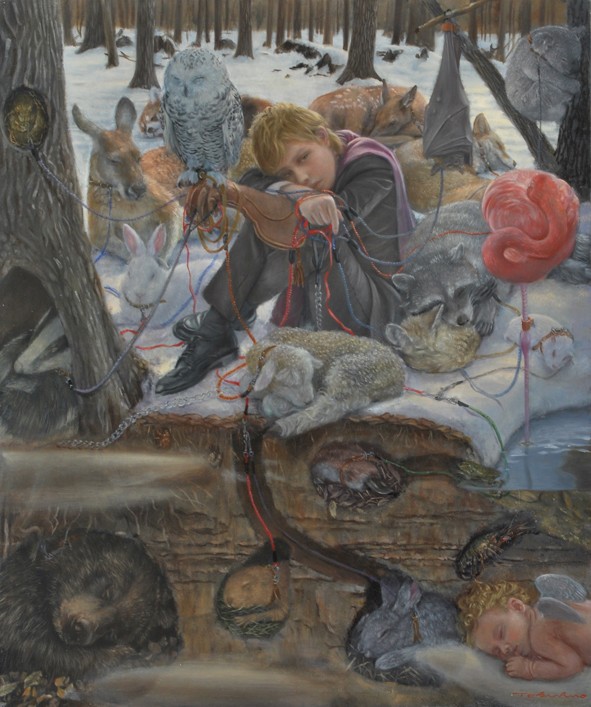 スリープコレクター sleep collector
2010年
45.5×37.9cm(F8号)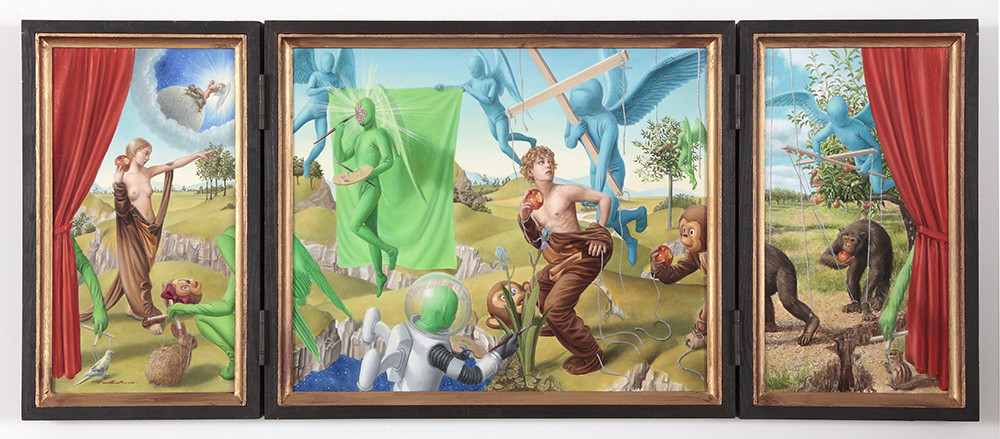 舞台 進化論的創世記 Genesis as evolution theory
2019
Opened : 87×36.5 cm Closed : 43×36.5 cm
oil on canvas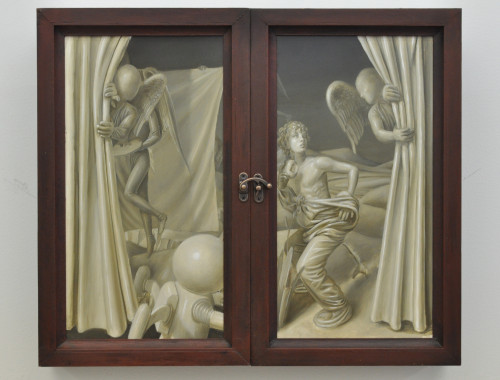 閉翼時 (close)
今回の作品は、扉を開けば幕開けとなり、三連画が現れるというふうに舞台仕立てになっています。
全身タイツを着た天使たちは、それぞれ背景にとけ込むようにクロマキー合成の色のタイツを着てこの舞台における黒子の役割をしています。
彼ら自身は「見えていない」という前提で、人間の感覚では認知出来ない、現実世界において神懸かり的なものの存在の象徴として描いています。
また、右パネルの背景は、神の作った美しい自然を表すため写実的に描き、他パネルの背景は舞台の書き割りのイメージから人工的美しさを描いています。
そして、まだ天使に操られた猿の姿のアダムが、知恵の実により意思を持ち、糸を断ち切ります。私は、この作品において宗教的な創世記と科学的な進化論の私なりの融合を試みています。
ー閉翼時ー
フレームを舞台に見立て、幕開き(物事の始まり)と幕切れ(物事の終わり)を意味している。この時点では両瞬間とも消灯状態である。
ー開翼時ー
舞台の幕開けとなり、左右の場面が展開する。上部に見える黒子役の天使は、現代の映像合成技術から発想した、保護色である緑色と水色のタイツ姿で、舞台の裏方であり、神がかり的なものとして描かれている。
(右パネル)
アダムが中央パネルに進化しながら移動する。
(左パネル)
エバが顔に蛇を描く天使の勧めで知恵の実を食べる。顔に蛇を描いている天使は背後の布とのクロマキー合成により、エバからは蛇のみしか見えていない。
天使たちは人間界を陰で支えているが、地面の裂け目から見える宇宙は、神の保護から離れていくことへの危うさと不安を表現する。
空には、かつて自分の姿に似せて人類を作ったという創造主自身が、着ぐるみを捨て本来の姿を見せている。
(背景)
右パネルが神の作った世界であり、美しい自然・写実的な表現と対照的に中央および左パネルは神から回避した人工的世界を、初期フランドル派を模したタッチで表現する。
三連祭壇画・・・初期キリスト教美術から発生し、中世以降は祭壇画の標準フォーマットとなった。
In this work, I try to make it look like a theatrical stage, the opening of play is shown and the triptych appears when the panels are opened.
Angels wearing full-body tights in chromakey composite color play the role behind scenes and they almost blend into the background.
I drew them as a symbol of the godly existence in the real world that cannot be recognized by human senses on the assumption that they are invisible.
In addition, I drew the background in the right panel realistically to express the beautiful nature created by God. On the other hand, I drew the background in the other panel as artificial beauty from the image of the stage backdrop.
Then Adam in monkey suit who is still manipulated by an angel cut off the strings to free himself since he got a will by eating the fruit of knowledge.
I am trying to fuse religious elements in Genesis and scientific theory of evolution in my way in this work.
-close-
・The frame is used as a stage and the stage shows the beginning of a story (start of things) and the end of a story (end of things). Lights are off when the panels are closed to show two paintings.
-open-
・The stage opens, to develop the left and right scenes. The "KUROKO angel" at the upper of the painting wearing green and light blue tights inspired by modern image technology.They are drawn as something godly and they work behind scenes.
(right panel)
・Adam move to the center evolving into human.
(left panel)
・Eva is tempted to eat the fruit of the knowledge by the angel with the snake painted it's face.
Because of chroma key composition of the cloth behind, Eva can only see the snake on the face of the angel.
・Although the angels work behind the scenes to support the human world, the universe seen from the crack in the ground depicts danger and anxiety as humans are moving away from the protection of gods.
・In the sky, the Creator, who created humans to make them look like himself, sheds his human costume and discloses his real self.
(background)
The right panel represents the world created by God naturally and realistic, while the center and the left panels represent an artificial world deviated away from God with early Flemish touches.
triptych・・・It originated from early christian art and became a standard format for altarpiece since the Medieval period.