NEWS
2023年4/14(金)〜4/25(火)までギャラリー玉英にて展示を行います。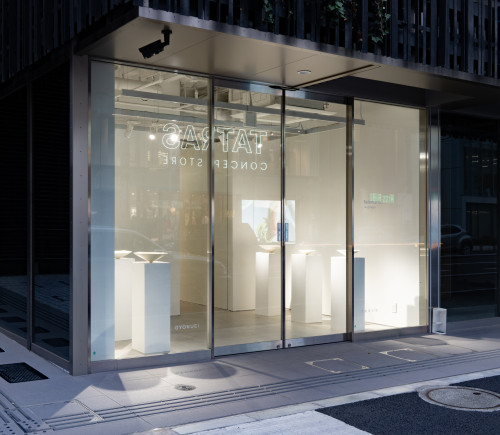 6elements is a group formed based on the idea of one artist.
Through the creation of realistic products, they aim to connect with people and help shape a better future.
一人のアーティストの考えを基に結成された集団。
リアルなモノ作りを通して、人々と繋がり、より良い未来形成の一助となる活動を目指す。
Concept
The concept of time, memory, life, and nature are expressed in ceramics made from natural clay and glaze with elements such as cracks, distortion, shrinkage, holes, and rubbing.
What are the qualities and forms of things that can be encompassed by the concept of "beauty" that may have existed since ancient times?
While projecting the contours of these qualities onto ceramic objects as if to confirm them, the artist attempts to quietly shake our sensibilities.
The shapes, glazes, colors, textures, and cracks of the objects also reveal the context of East Asian ceramics.
These artists are concerned with raw materials and technical development in order to express this aesthetic sense in a contemporary way.
Materials
Potter's clay(Frog- eye's clay), produced in Seto City, Aichi Prefecture, is a highly plastic clay with a white color that is rare in the world, and is composed mainly of kaolin and quartz.
The source rock is a granitic rock deposited at the bottom of a lake, and its unique weathering process has dissolved most of the iron, magnesium, and alkali elements, giving it a white color. The name comes from the fact that the white grains of quartz look like the eyes of a frog in Japan.
Concept
時間・記憶・生命・自然に対する概念を亀裂・歪み・縮み・穴・擦れなどの要素を自然の胎土や釉薬を原料としたセラミックで表現する。
太古から存在したであろう美という概念が包括し得る、モノの質や形とは何か。その輪郭を確かめるように立体に投影させながら、我々の感受性を静かに揺さぶろうと試みる。
形、釉薬、色、質感、亀裂などからは、東アジアの陶磁器の文脈が窺える。
アーティストは、その美意識を現代的に表現するため、原材料から拘り技術的に発展させている。
Materials
愛知県瀬戸市から産出される蛙目粘土は、世界的に稀有な白色を誇る可塑性の高い陶土で、 主にカオリンと石英から構成。
原岩は湖底に堆積した花崗岩類で、特異な風化作用により鉄、マグネシウム、アルカリ元素などがほとんど溶脱し白色を呈する。石英の白い粒が蛙の目のように見えることから、その名が付く。
6elements 展
会期:2023 年4 月14 日(金)− 4 月25 日(火)
会場:GYOKUEI
   東京都港区南青山6−8−2 info@gyokuei.tokyo
時間:10:30−18:30(日祝休廊)
GYOKUEI
6-8-2, Minamiaoyama, Minato-ku,Tokyo 107-0062, Japan
Tel: +81(0)3 6410 4478 Fax: +81(0)3 3400 375