EXHIBITION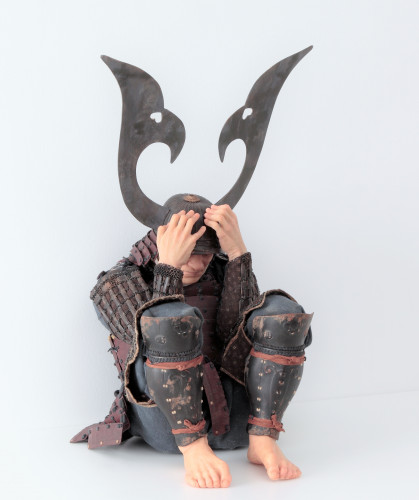 BIAS
W29.5×D31×H45cm mixed media

野口哲哉 "This is Not a Samurai" -深遠な世界-
アート・キュリエイターであり、良き理解者であるジョン氏のお陰で、理想的な展示が実現した。
ジョン氏が名付けた展示タイトル「This is Not a Samurai」によって、
ずっと燻り続けてきた僕の心に初めて明快な言葉が与えられた。
そう、This is Not a Samuraiなんだ。
僕の作る人々にサムライなんてバイアスは必要ない。それは紛れもない人間であるべきだ。
鎧の中で儚く輝く人間の姿だ。
Tetsuya Noguchi "This is Not a Samurai" - The Uncanny World of Tetsuya Noguchi -
Thanks to Mr.John who is an art curator and sympathetic supporter of mine, the perfect exhibition is realized.
The exhibition title "This is Not a Samurai" that is named by Mr.John gave obvious words to my smoldering heart.
Right, This is Not a Samurai.
There is no need to be biased for my Samurais, undoubtedly they should be human.
That is the reality of human glowing in amour with frailty.
📍 Arsham/Fieg Gallery Instagram [arshamfieggallery]
📆 September14 - 17, October1 - November4 2019